One of Alphabet's Waymo's autonomous vehicles has killed a pet dog. TechCrunch discovered the public report on the crash, which says a Waymo Jaguar I-Pace ran over a dog in San Francisco while in self-driving mode with a safety driver behind the wheel. Waymo crash report says:
On May 21, 2023, at 10:56 a.m., a Waymo self-driving vehicle ("Waymo AV") operating in San Francisco, California was involved in a collision with a small dog on Toland Street in Toland Place. The Waymo AV was driving southwest on Toland Street when a small dog ran into the street in front of the Waymo AV. The Waymo AV then contacted the dog, which did not survive. At the time of the collision, the Waymo AV Level 4 ADS was operating in autonomous mode, and a test driver was present (in the driver's seated position). The Waymo AV device is damaged.
The collision was a block from Toland's Warehouse in Waymo, a 120,000-square-foot warehouse that houses at least 50 self-driving vehicles. The speed limit on Toland Street is 25 mph, according to posted signs that can be viewed on Google Maps. From this Street View link the road looks like a busy industrial area with many warehouses, truck delivery areas and barbed wire fences.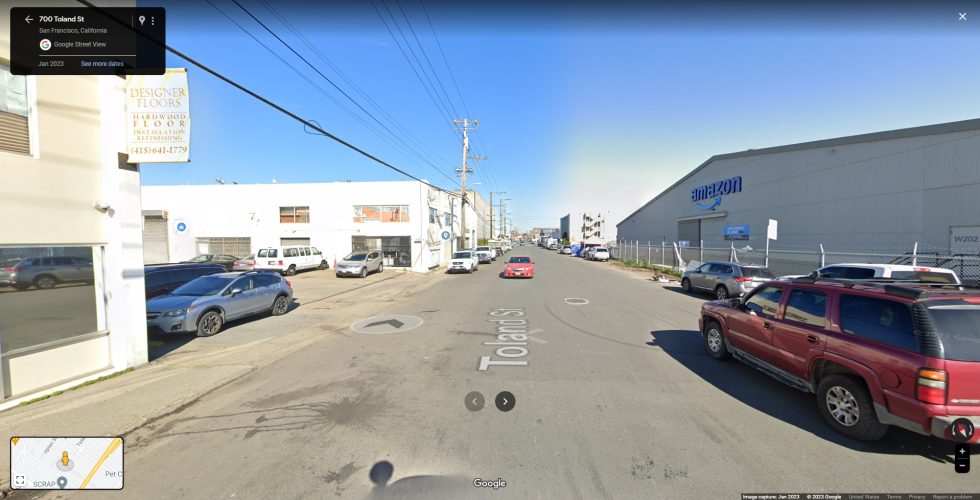 Waymo sent a statement:
On May 21st in San Francisco, a small dog ran in front of one of our cars with an independent specialist present in the driver's seat, and unfortunately, contact was made. The investigation is ongoing, but an initial review confirmed that the system correctly identified a dog that had exited from behind a parked vehicle but was unable to avoid contact. We send our deepest condolences to the dog's owner. The trust and safety of the communities in which we operate is the most important thing to us and we continue to look at this from our side.
This incident is the first fatality reported in Waymo.
Listing image by Waymo